WHAT I WANT MY CHILD TO KNOW ABOUT GROWING MONEY TREES (SOFT COPY)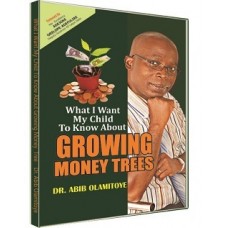 Mission
100 Billionaires every ten years.
I congratulate you for getting a copy of this book. In it, you will discover all you need to know and do in order to manifest a fruitful life; a life of meaning and purpose; of genuine opulence and happiness. This is the unfailing promise! If you ever desire true wealth, you now hold the right tool.
Anyone can become wealthy that is willing to follow the basic principles of industry and frugality; the two main pillars that stand the frame of prosperity. This is the core message of Growing Money Trees.
In the series of What I Want My Child To Know, this book is the third. It comes in six reader-friendly chapters. Each chapter begins with a key message; a success principle you need to know, then the steps you must take, and finally, a call to action.
Chapter One deals with the fundamental law of sowing and reaping, the natural way to generate the abundance seed; the so called start-up capital; how to plant it, nurture it and protect it, until it grows to become the fortune you always desired.
Chapter Two gives you the basic mindset of all wealthy people; the thought pattern that attracts prosperity and opulence. It shows how greatness is attained and sustained, and the fact that you carry the capacity to become a legend in whatever career you pursue. It explains and illustrates the pathway to greatness.
Chapter Three, the Miracle of Imagination, describes how you can form the mental model, the vision and conception of the kind of life you truly want. It shows the pain-free way to matriculate from poverty to prosperity.
Chapter Four tells you how the forest is made up of many trees, and that, to become wealthy in the class of a billionaire, like the forest with a single tree, a single line of business is not adequate. It shows you how to start with one business, make it thrive without you, and then, you get the way to create many more businesses that grant torrential streams of income. You also discern the proven technique of multiplying your income without expanding your efforts.
Chapter Five, the Way to Wealth, you will learn about the seven inspiring stages to financial freedom. You are then led to establish the stage you currently operate. Finally, you see the ascending stairs that take you onward and upward to higher stages that hold better promise. You also get to enjoy the amazing Parable of Climbers.
Chapter Six puts all the earlier chapters together in a concise, memorable and practical manner that allows the core message to penetrate and invigorate. You walk away anew, refreshed and empowered.
While wishing you the best of luck in this exciting adventure, let me remind you that this book is not a novel. You will therefore do well to accord the principles and their applications the measure of seriousness they deserve and demand. You get only by doing, not by knowing. The destiny of prosperity begins with its thought, like Emerson so vividly put it;
"Sow a thought, you reap an act';
Sow an act, you reap a habit;
Sow a habit; you reap a character;
Sow a character, and then, you reap a destiny."
I, therefore, strongly recommend that you sow today, sow tangibly, sow wisely and then take your seat with a comfortable knowledge that a bountiful harvest will follow by morrow.
Dr. Abib Olamitoye is a purpose driven and self motivated Medical Practioner, Business and Thought Leader. He obtained both his Medical degree as well as his Masters degree in Business Administration from the University of Ibadan, Nigeria.
He is the founder and Chief Executive Officer of Tolu Medical Centre, Olodi Apapa, Lagos Nigeria; Ibadan Central Hospital, Ososami Road, Oke Ado, Ibadan Nigeria; Dr Abib Olamitoye is the Author of many inspirational and Motivational books including
What I Want My Child To Know About Building A Great Life - How To Prepare To Prosper

What l Want My Child To Know About Money formerly published as "The Greatest and Strangest Money Making Secrets"

How To Create A Business That Trives In Your Absence
He is also the founder and facilitator of 100/10 Academy, a Human Resource Outfit originally designed to raise 100 Billionaires in ten years, where he teaches Entrepreneurial Skills and Principles in Ibadan and Abeokuta, Nigeria. Dr. Abib Olamitoye is happily married with two children.