Business That Thrives in Your Absence (Soft Copy)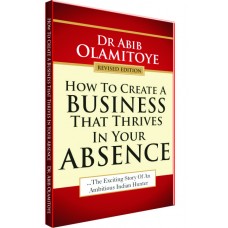 Mission
100 Billionaires every ten years.
The person who says it cannot be done should not interrupt the person doing it.
– Chinese proverb
I started my first private hospital 27 years ago in Lagos, Nigeria. A peculiar threat I noticed then with earlier practices and practitioners was the transformation of such practices into glorified prison cells for the practitioners. I realized that many owners of hospitals, corner shops, hair salons, guest houses, laundry outlets and a sundry other small businesses were, in fact, running and perfecting "self imposed prison sentences."
I was terrified that doctors who owned private hospitals could not go on holiday for one month. They could not leave their wards and theatres. They delegated travels, holidays and enjoyment to their spouses and children and derived no personal benefit from the wealth they had created. I found this rather disturbing and dreadful. I felt then that there must be a way out. A hospital, like a hotel, a private school, a lawyer's chamber, an eatery, a commercial bank and businesses of any description, should be independent of the founder; it should be able to outlive the founder.
There are dozens of excuses why doctors must remain inseparably attached to their clinics. Here is their greatest fear: the doctors they employ soon get used to the patients. A few of such employee doctors later resign from the practice and move to the next street to start their own hospitals, thus carting away all the patients and some staffers, leaving the employer and the remaining staff members completely stranded.
I sat down in my small consulting room, then in 1987, pondering, and thinking that there should be a way to remove all the fear, escape all the pains, and accomplish the task of making the business thrive in my absence. There could, perhaps, be a book or two that contained the intelligent approach, the right ways, to face all the fears, until the desired goal is achieved. If I could discover a way, I thought, it would help liberate owners of chemists, provision stores and many other small businesses and make them grow bigger, open many branches, generate wealth, happiness and freedom. It would "discharge and acquit" my colleagues and friends from their self imposed prison bars. Consequently, I began the search.
I read book after book on delegation, supervision and business growth. I attended countless seminars, bought and listened to dozens of audio cassettes on hiring and firing, people growth and people empowerment. I applied all the ideas and recommendations as they arrived until I began to stay away from the hospital for one day, then one week, one month, one year, five years and now going to fifteen years!
As soon as I could sneak away for one month, I started another hospital in Lagos, then came to Ibadan to start two others. I went to the university for a two-year full time course that led to the award of master's degree in business administration. Sometimes, like Anthony Robbins coined; "You will only know how far you can go by going too far."
I relocated my family to London, England and lived there for five years while all my hospitals thrived well at home in Nigeria. In London, I started and ran a DIY store on Evelina Road that became independent of me within one year. I returned to Nigeria to start one of the leading hotel outfits in the city of Ibadan, which also currently thrives in my absence. I served in the cabinet of the Governor of Oyo State as the Special Adviser on health, a full time appointment, until I voluntary resigned after one year to focus on helping other people create businesses that would thrive in their absence. It is this series of seminars and workshops that I have been conducting in the last five years with remarkable success, and dozens of practical, happy testimonies that led to the writing of this book for the global audience.
This book, from the start, the introduction, to the very end, is a continuous, exciting story that illustrates the way to start and run a business in a manner that permits the starter to progressively free himself from the routine. Each chapter ends with a list, a check-list, of lessons to be derived. This way, you enjoy the story without losing the lessons.
How to Create a Business That Thrives in Your Absence is a practical guide to business and people growth. It is not a novel. You will help yourself, and your business, if you put all the ideas and recommendation to work. You will apply the knowledge and get the results.
After reading the entire book, you will come back to it again and again. You will study the checklist and follow the guidelines. This is the way, the best way, to accomplish the desired end.
While wishing you the best of luck in this new mission that promises to revolutionise the way small businesses get transformed into big ones, let me remind you again that knowledge-based practice, the type that is advocated in this book, is the surest way for you to make the most of business opportunities, to maximise your potential, exploit your God given talents and to become a blessing to yourself, your family, your nation, and to the world.
God bless you.

Dr. Abib Olamitoye is a purpose driven and self motivated Medical Practioner, Business and Thought Leader. He obtained both his Medical degree as well as his Masters degree in Business Administration from the University of Ibadan, Nigeria.
He is the founder and Chief Executive Officer of Tolu Medical Centre, Olodi Apapa, Lagos Nigeria; Ibadan Central Hospital, Ososami Road, Oke Ado, Ibadan Nigeria; Dr Abib Olamitoye is the Author of many inspirational and Motivational books including
What I Want My Child To Know About Building A Great Life - How To Prepare To Prosper

What l Want My Child To Know About Money formerly published as "The Greatest and Strangest Money Making Secrets"

How To Create A Business That Trives In Your Absence
He is also the founder and facilitator of 100/10 Academy, a Human Resource Outfit originally designed to raise 100 Billionaires in ten years, where he teaches Entrepreneurial Skills and Principles in Ibadan and Abeokuta, Nigeria. Dr. Abib Olamitoye is happily married with two children.