BUILDING A GREAT LIFE (SOFT COPY)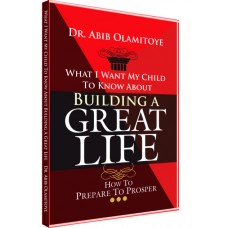 Mission
100 Billionaires every ten years.
Dr. Abib Olamitoye is a purpose driven and self motivated Medical Practioner, Business and Thought Leader. He obtained both his Medical degree as well as his Masters degree in Business Administration from the University of Ibadan, Nigeria.
He is the founder and Chief Executive Officer of Tolu Medical Centre, Olodi Apapa, Lagos Nigeria; Ibadan Central Hospital, Ososami Road, Oke Ado, Ibadan Nigeria; Dr Abib Olamitoye is the Author of many inspirational and Motivational books including
What I Want My Child To Know About Building A Great Life - How To Prepare To Prosper

What l Want My Child To Know About Money formerly published as "The Greatest and Strangest Money Making Secrets"

How To Create A Business That Trives In Your Absence
He is also the founder and facilitator of 100/10 Academy, a Human Resource Outfit originally designed to raise 100 Billionaires in ten years, where he teaches Entrepreneurial Skills and Principles in Ibadan and Abeokuta, Nigeria. Dr. Abib Olamitoye is happily married with two children.