Building A Great Life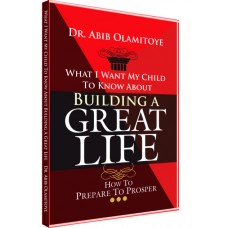 Mission
100 Billionaires every ten years.
This book promises family prosperity. Evidently directed towards the child, it is indeed a working tool for all seekers of personal progress.
The method of mentoring advanced in this book is the quickest, safest and the most scientific approach to creating dreams and making them come true.
It is written in the tone of transferring a trans-generational success formula from the wealthy ancestor, to the parent, the child, and then, the future generation. The chapters are architecturally and systematically arranged in a manner similar to the building of a great cathedral or a modern day sky scraper.
Beginning from Chapter One, which is divided into different 'pillars' that hold the edifice of a successful life, the other chapters arrive to reinforce, entrench and fortify.
Each chapter comes as a sealed letter, containing instructions, like a manual, on how to creatively construct the kind of life you have always wanted; how to live the life of your dream!
"It makes you want to succeed," was the compliment from my own child, Oluwaseun, after reading and filling in the blank spaces of the first chapter.
Ambition! Yes! The desire to succeed is indeed the foundation of every form of prosperity and abundance. It is the origin of a pragmatic existence.
Starting from you, the reader, this book may well be the much needed material to constructing the groundwork of a legendary career. Like a do-it-yourself manual, you will read and erect the pillars as directed, and then progressively frame the kind of life you have always wanted.
To become stupendously wealthy in a colony of destitutes is neither noble nor admirable. You will therefore reveal the secret formula to members of your own family, and your friends, that they in turn may follow this proven technique and together, unveil a new society where individuals live a life of purpose, meaning, joy and abundance.
From the bottom of my heart, I wish you the very best.
Dr. Abib Olamitoye is a purpose driven and self motivated Medical Practioner, Business and Thought Leader. He obtained both his Medical degree as well as his Masters degree in Business Administration from the University of Ibadan, Nigeria.
He is the founder and Chief Executive Officer of Tolu Medical Centre, Olodi Apapa, Lagos Nigeria; Ibadan Central Hospital, Ososami Road, Oke Ado, Ibadan Nigeria; Dr Abib Olamitoye is the Author of many inspirational and Motivational books including
What I Want My Child To Know About Building A Great Life - How To Prepare To Prosper

What l Want My Child To Know About Money formerly published as "The Greatest and Strangest Money Making Secrets"

How To Create A Business That Trives In Your Absence
He is also the founder and facilitator of 100/10 Academy, a Human Resource Outfit originally designed to raise 100 Billionaires in ten years, where he teaches Entrepreneurial Skills and Principles in Ibadan and Abeokuta, Nigeria. Dr. Abib Olamitoye is happily married with two children.