Basic Entrepreneurship Skills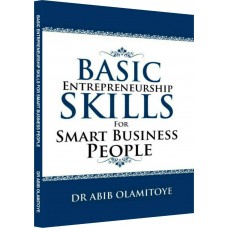 Mission
100 Billionaires every ten years.
Let me congratulate you for getting a copy of this life changing book.
To be unemployed is a very difficult phase in life. It can be incredibly frustrating. It always comes as a big problem. It's always a challenging experience.
Every problem must be seen as a signal that change is needed. Problems come to invite change; primarily a change in thinking and acting. Problems never come unless some necessary proactive steps had earlier been neglected, ignored or abandoned.
The way to solve a problem is never to curse it, blame others, or hope that it would walk away. It's to take personal responsibility, to seek a new awareness, a fresh insight or a specialised knowledge that promises the desired solution.
Problems always take their leave as you take the needed action.
Learning is the intelligent approach to getting the ideas that open doors; doors of opportunities and possibilities. You do not solve a problem by doing nothing about it.
If currently unemployed, you're one idea away, a phone call away or one connection away from the kind of job you have always wanted. Your immediate duty is to seek it and to keep seeking it until you find it. You will find this book a reliable guide in this respect.
You have a duty to devise ways to perpetually dwell on the solution and withdraw attention from the problem. This book will show you a way to sustain the needed focus. In many instances, the job you seek is already in your hand. To see it, you need to take a closer look. Everyone is born with a God given talent that needs to be identified and cultivated. You hold in your hand a loyal navigating companion.
In your search, hope must dispel despondency. Faith shall conquer worry. As you read, you'll gradually take possession of renewed confidence, and as you work on the suggestions and recommendations, you'll experience new power. This is the needed weapon that grants victory!
In the management of every problem, the axiom has remained the same: prevention is easier, cheaper and better. This book will help address areas of prevention and recommend curative measures.
I had a dream. As a Medical student, I wanted to own and run a private practice. I had the rare fortune of taking certain steps before my internship. I took further steps in the course of my one year National Youth Service Corps Scheme, NYSC. These steps led to starting my first hospital, three days after the passing out parade. In nine years, this hospital, Tolu Medical Centre, became the biggest and busiest private hospital in South West Lagos.
This book will show you how I did it, the steps I took and how you too can accomplish your dream. Reading The Basic Entrepreneurship Skills for Smart Business People will immediately place you on a queue. Greatness awaits you at the end of the line. Satisfaction, achievements and fulfilment will come as you take action on the recommendations.
Winners take action. They know they're never paid for knowing but for doing. No one is ever rewarded for having brains. Benefits come from using them appropriately. You must become action oriented and take full advantage of the stream of ideas that will come your way.
I congratulate you for loving yourself enough to invest in this voyage; for coming on board a thrilling adventure - the search for greatness, success and an abundant life.
I wish you the very best of luck. God bless you always.
I love you; all of you!
Dr. Abib Olamitoye is a purpose driven and self motivated Medical Practioner, Business and Thought Leader. He obtained both his Medical degree as well as his Masters degree in Business Administration from the University of Ibadan, Nigeria.
He is the founder and Chief Executive Officer of Tolu Medical Centre, Olodi Apapa, Lagos Nigeria; Ibadan Central Hospital, Ososami Road, Oke Ado, Ibadan Nigeria; Dr Abib Olamitoye is the Author of many inspirational and Motivational books including
What I Want My Child To Know About Building A Great Life - How To Prepare To Prosper

What l Want My Child To Know About Money formerly published as "The Greatest and Strangest Money Making Secrets"

How To Create A Business That Trives In Your Absence
He is also the founder and facilitator of 100/10 Academy, a Human Resource Outfit originally designed to raise 100 Billionaires in ten years, where he teaches Entrepreneurial Skills and Principles in Ibadan and Abeokuta, Nigeria. Dr. Abib Olamitoye is happily married with two children.